home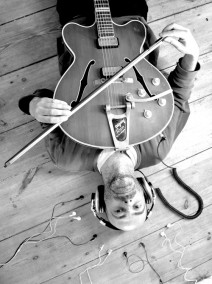 photo: sabine jamme
Chris Famer is of vaguely British origin and a self-taught gardener, linguist, musician, artist who composes and improvises in all of these media.

Since early age he has been influenced/obsessed by song and sound, and especially how it can be transformed or dismantled, as seen in the works of Anthony Milton, Michael Gira, Richard Skelton.

With this in mind, he has gardened, translated and created his way through France, Belgium and the UK since the early 1990s.

He currently experiments with the relation between languages, culture, sound, structure, horticulture and art, in various (random) combinations.

His quest is to find the poetry in noise and the botany of language, hoping to one day compile a formally chaotic and above all subjective monograph of the world that confronts him (us) every day.

Live, he combines voice and guitar with loops and electronic resonances into an improvised landscape of word and sound.

In November 2012 he released his first solo album "a brief history of crossings out", produced and mixed by Guillaume Le Boisselier with a sleeve designed by Deborah Robbiano.

Aside from his solo activity,

he is also part of 'the Flower of the Five Wounds', with Guillaume Le Boisselier, (more info here)

and is working on the audio scenography of a theatre play ("De Mémoire d'Alice" by Clotilde Escalle) with Magali Revest and Camille Cooken. (more info here)

He has been a part of Mueros, Animal Vacarme and collaborates or has collaborated with: Hippy Death Suite, Fa Cesario, Laurette Goldfish, Podkayne fille de Mars and the artists: Magali Revest, Roxane Petitier and Lisie Philip.

more info here
more info here
He also produces visual works, mainly using various kinds of inks.

Its hard to explain so its best to have a look at this page.

Contact for commissions, purchases, bookings etc....

chrismueros@gmail.com
or in person, if you can find him in the real world...
this page
concert archive:
21/12/13
solo concert - mönchengladbach (Germany)
13/12/13
solo concert - la Porte Rouge (BXL)
12/12/13
guest with Tzii - Café Centrale (BXL)
25/07/13
solo concert - supporting Jeffrey Lewis - Café Centrale (BXL)
18/07/13
the Flower of the Five Wounds - Projekt 42 - Mönchengladbach (Germany)
12.03.13
the Flower of the Five Wounds – Compilothèque (BXL)
08-09.03.13
de Mémoire d'Alice – Espace l'escaut (BXL)
29.01.13
solo concert – Loophole (Berlin)
20.12.12
solo concert – Möchengladbach (Germany)
17.12.12
solo concert + performance with Roxane P – le Salon (Nice)
13.12.12
live performance – Radia_Radio Panik – BXL
06.12.12
performance with Roxane P – Lycée Estienne d'Orves (Nice)
20.10.12
solo concert with In Extenso – Galerie Goutte de Terre (Paris)
03.10.12
live headphone performance #2 – Expo-Berlin
29.09.12
live headphone performance #1 – Expo Berlin
13.09.12
the Flower of the Five Wounds, opening for Larsen – Café Centrale (BXL)
10.08.12
duo with Fa Cesario – August Freaks (BXL)
06.07.12
the Flower of the Five Wounds – Compilothèque (BXL)
19.06.12
mueros – Ateliers Claus (BXL)
05.06.12
solo concert – le Salon (Nice)
31.05.12
the Flower of the Five Wounds – WALLS (BXL)
30.03.12
solo concert – le 8 (BXL)
10.03.12
Espace Clos/de Mémoire d'Alice – Espace l'Escaut (BXL)
14.02.12
solo concert – le Salon (Nice)
12.02.12
solo concert – le 5ieme (Nice)